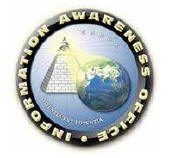 Big Brother Surveillance Society
By Eric Dubay
There are over 30 million closed-circuit television cameras in America recording 247, catching the average citizen on film nearly 200 times daily. Every American has a 9digit government Social Security number assigned to them at birth.
 We require government licenses to drive, to get married, and have pets, government passports to travel, and corporate credit cards to book tickets, make reservations, and shop online. Our phone lines are tapped and our emails are compiled and saved. Intelligence agencies and corporations share and maintain huge databases full of information on every citizen.  
The government, corporate, and media interests have all melded into one cohesive unit, propagating the "official" version of reality through every newspaper and TV set. Continue reading →